On August 11, 2023, the SEC issued a response to ArkInvest's filing which said that decision on ArkInvest Bitcoin ETF was delayed to 2024. ArkInvest and 21Shares are the two companies managing the ETF. They re-filed their application for the third time on April 26, 2023, after being rejected twice by the US SEC.
A snapshot of the reply by SEC is shown here in the image below.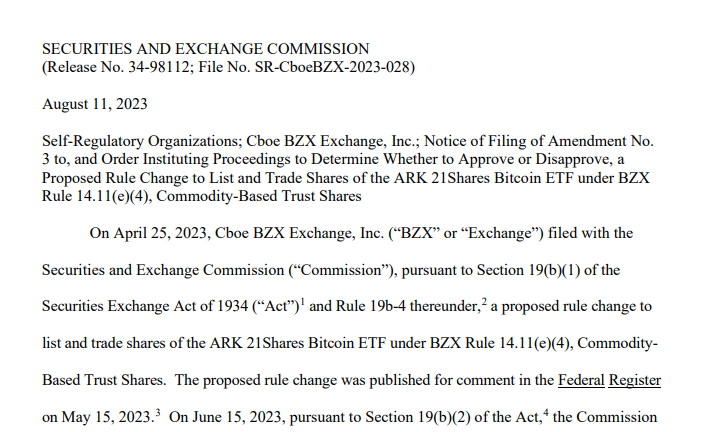 Earlier Filings with the SEC
Ark Invest applied for the third time for a spot Bitcoin ETF after being rejected twice by the SEC. They re-filed their application for the third time with the US SEC, this year on April 26, 2023.
Earlier, they were rejected twice. The two companies, Ark Invest and 21 Shares filed their first application in July 2021, which was rejected in April 2022. They again filed a resubmission in May 2022 which was again rejected in Jan 2022.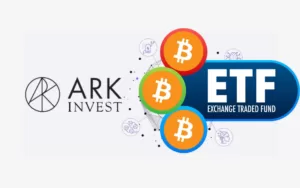 About Ark Invest
Ark Investment Management LLC is an US based investment firm that offers ETFs, Venture Capital Funds, and few other investment schemes in innovative technologies such as blockchain technology. Ark is led by its CEO Cathie Wood, who often conducts insightful podcasts with Elon Musk (Tesla), Jack Dorsey (founder and former Twitter CEO) and several other notable supporters of innovative technologies.
The company is also known for its research publications. In February 2023, it published the 2023 Big Ideas, a document which majorly highlights how blockchain technology could transform our daily lives. It also has optimistic reports on AI, 3D Printing, Molecular Diagnosis, Precision Therapies, Electric Vehicles, Autonomous Taxi, and a lot more.