The success of Bitcoin ETFs are in question with the SEC having delayed its decision and Europe's lackluster response to the Bitcoin spot ETF that was launched by Jacobi Asset Management in Euronext Amsterdam Stock Exchange.
Bloomberg Analyst says, if approved, it would unlock a $30 Trillion worth market.
Table of Contents
Lackluster Performance by Jacobi Bitcoin ETF
The Jacobi Bitcoin Spot ETF was launched on Aug 15, 2023, almost 2 years after it got approval in October 2021 in Guernsey, UK.
However, on the first day of its debut, just 113 trading volume was recorded. The Bitcoin spot ETF was listed on Amsterdam Stock Exchange.
Regulatory Danger from the US SEC
The United States regulatory agency, The SEC on the other part of Atlantic, postponed Ark Invest and 21 Shares spot Bitcoin ETF to 2024. Till now the SEC has never allowed a spot Bitcoin ETF to operate in the USA.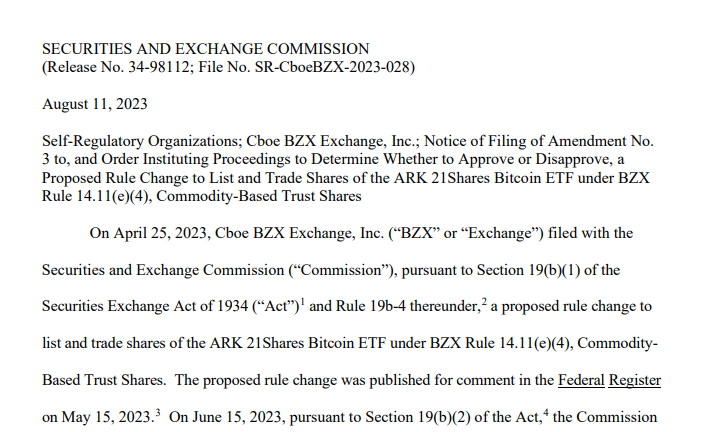 Former SEC staff, John Reed Stark believes that the SEC won't budge from its earlier stand of disallowing Bitcoin spot ETFs.
Yet, there are a plenty of Bitcoin Futures ETFs which are much riskier instruments than Spot ETFs.
BlackRock is Bullish on its Spot Bitcoin ETF
However, Blackrock officials are bullish about their ETF's approval saying, its just a matter of when and not if. They further said that Bitcoin spot ETF is likely just 6 months away from being granted permission by the SEC.
Bloomberg Analyst Reveals $30 Trillion at Stake
Bloomberg ETF analyst Eric Balchunas, stated that if approved, Bitcoin spot ETFs could unlock a market worth $30 Trillion. This number is the estimated worth of capital assets controlled by the asset managers in the USA who would be willing to invest in Bitcoin via regulated investment methods like ETFs.